Visiting Porto was really a given, I couldn't pass by one of the largest cities in Portugal without at least a quick look. From my base in Povoa de Varzim it's just a 30 minute metro ride costing just 5.50 euro, and buying the ticket was a breeze: the instructions are in Portuguese and English!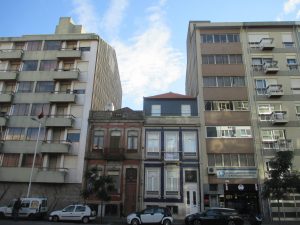 One thing I didn't do before setting off was to get a map and have a look where the various stations were in relation to the city, no problem, I thought, I'll just stay on to the end and work my way back. The final stop on my line was 'Estadio do Dragao' otherwise known as the home of FC Porto, and it's not that close to the city center, oops! On the plus side, when you're walking through back streets trying to find your way you come across some unusual things, one thing today was 'Cemiterio do Bonfim' a famous cemetery, who knew? Also the Porto Military museum, both worth a visit 🙂
About half an hour of walking (not including stops) and I was at the 'Ponte do Infante' one of the numerous bridges crossing the Douro river, this one's a road bridge. A little stroll and I was at the 'Ponte Luis 1' this one carries the metro and people …… so many people, the metro drivers must have nerves of steel, it's not like they can stop very quickly.
The picture on the right was my view having lunch!
Looking down from the bridge you get a great view of the Port wine cellars on one side and the historical center of the city, the Ribeira, on the other, this area is full of windy narrow streets, but being portugal they still get cars along them, I was too shocked to photograph the guy driving one handed the other on his phone, he must have had about 3" on each side and he was doing about 30mph.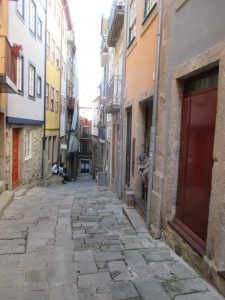 From here I just wandered around with no real plan, just seeing where I ended up: there's museums, fancy buildings, lush parks and green squares, statues galore and interesting stuff all around. Another big plus is it's not a particularly expensive city, I found a coffee and cake for 1.10 euro and the big cream filled cakes you find everywhere are only around 30c.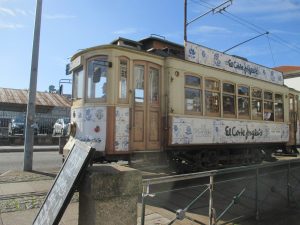 So Potrto city hint, as for all cities really, get a map, eat cake and just chill.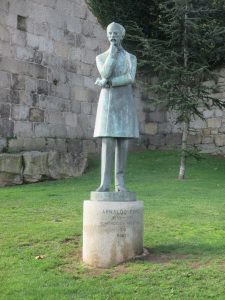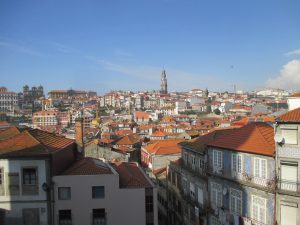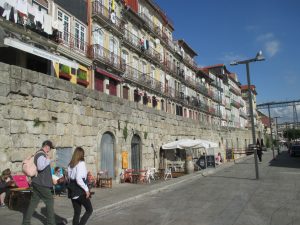 Oh by the way the Porto sign picture at the beginning isn't the wrong way round, I took the photo that way 🙂