The road from Portugal to Madrid
Following our adventures in Portugal, our next destination was to be Madrid, Dom had been invited to visit some friends in Benidorm and Madrid was the best place to catch a bus, so watch out Madrid we're on our way!
A Rue De Valdeorras
It's quite a drive so we did it over 4 days, stopping at some wonderful places along the way, first night was at A Rue De Valdeorras: obviously once an affluent area but now perhaps a little down on its luck, non the less a very pretty and welcoming town.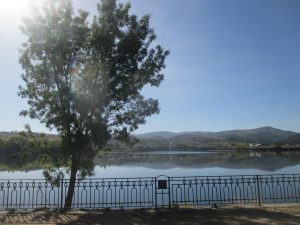 We were parked up next to the gorgeous little lake, right next to the football ground and sports center, quiet at this time of year, but you can see it would be much busier in the summer.
Leon
The road then took us to Leon, a much livelier city, full of life: perhaps too much for us quiet country boys!!!
Part of the journey to Leon was through a great valley with vineyards all down one side, the road was a bit twisty but well worth it for the view.
Ampudia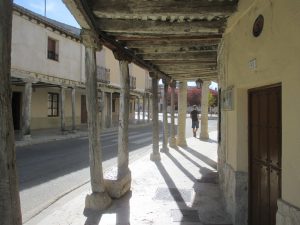 This little village sits on top of a hill rising from the extensive open planes of middle Spain, there's a great castle that keeps watch over the countryside. looking out over the plain it's like you can see all the way to tomorrow!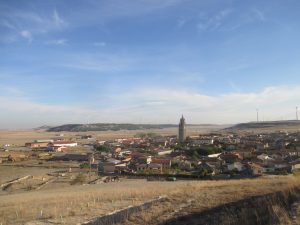 Segovia
Segovia was to be our parking spot while we visited Madrid as it's only around 35 minutes by train into the city.
The town itself was very busy with tourists due to its extensive roman ruins, and possible the most complete roman aqueduct anywhere in Spain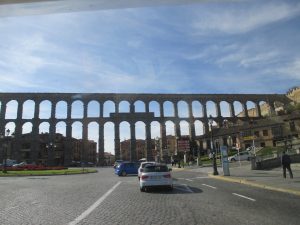 So what other highlight did Segovia have? …… an Indian restaurant! We though a treat was in order having been sooo good for weeks, mainly because this was the first Indian we'd seen since being away! and fair play it wasn't bad, not as spicy as you'd expect at home, but pretty good! We were parked at the towns bullring, a very big one with loads of space and just 5 minutes from the train station so happy days ….. Madrid here we come!