Santiago De Compostela
Santiago De Compostela is the main destination for pilgrims walking the way of St. James (Camino De Santiago).
There are 2 main routes, one starting in Lisbon, Portugal and the other in the french town of St. Jean Pied De Port (620k and 800k) but to qualify for a certificate modern day pilgrims only need to walk the last couple of hundred k.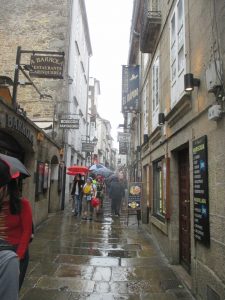 The pilgrimage to visit the relics of St. James in the cathedral of Santiago De Compostela is undertaken by 1,000's of pilgrims each year and has been followed since early christian times.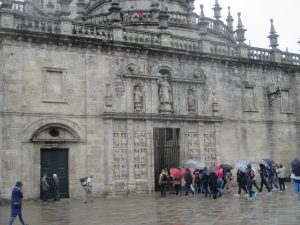 Santiago De Compostela itself is a city of 2 halves, the old and the new. The old town is a warren of narrow streets weaving their way to the cathedral at the heart of the town, all lined with shops selling every conceivable item that it's possible to print some reference to the pilgrimage on. The new town on the other hand has wide avenues, long pedestrian shopping streets and seemingly no mention of the pilgrimage that brings most people here.
After spending time in A Coruna we were a little disappointed with Santiago, it just seemed a little 'flat', perhaps because most pilgrims are in groups that stick together. Don't get me wrong, there's plenty of life in the city, loads of bars etc, but there wasn't that 'spanish' feel we're becoming used to, but do visit and decide for yourself.