Cabo Prior
Looking towards the headland at the Northern end of the beach there appeared to be a path or road going around, and a quick look on the map showed there was a lighthouse; well that seemed like a good point to aim for.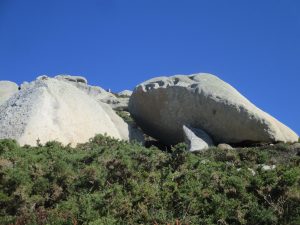 There was little of particular interest, other than the outstanding views and theses precarious looking rocks, until we were getting closer to the 'ligthouse'. I'd not looked up any details so didn't really know what to expect, but the collection of derelict building ahead was a bit surprising.
As we started to look around we saw more 'ruins' higher up the hill and when we got to them it seemed more like some kind of fort rather than a lighthouse. After some more exploring we found tunnels, underground rooms and the remnants of what must have been the mountings for some huge guns. There were rails and lifts to move munitions, the remnants of ventilation systems and 'spooky' tunnels and rooms. Dom was in his element exploring, but he did mention more than once that loads of horror films start with a group of people exploring spooky ruins!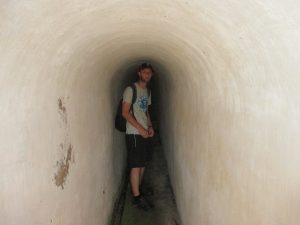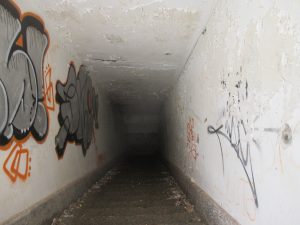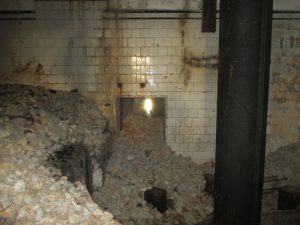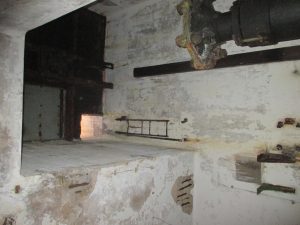 When we reached the top of one of the gun emplacements we saw that this wasn't the lighthouse complex at all, that was just down the hill. I've not been able to find much information about the fortifications, but it was certainly a substantial site, with more batteries around the lighthouse. I did find some info here which is worth a quick read.
I thought that once we'd got down to the lighthouse the the scary bit of the day was over, but for some reason we decided to follow the narrow steps out to some kind of look-out point, going was not a problem, but turning around and realising the steps, which were only about 3 feet wide with no railings, were built onto the cliff with a sheer 60 foot drop to the rocks below put a different perspective things, how we didn't notice walking out I'm not sure but the getting back was a bit nerve wracking, especially as the wind was getting up!
The rest of the walk back to the van was fairly uneventful, but after all the excitement we thought we deserved a little entertainment so a little rest and we popped on the bikes for a couple of k to a nice little bar and had a bar football tournament, luckily it was a draw so no gloating from either of us.