Ferrol
Well we've had some brilliant weather, it is Spain after all, and our journey has brought us to Ferrol, a city on the North-West tip of Spain. It's a great place, full of life, open squares to sit and relax and of course more than one bar to spend the siesta in!
The city has a large port that seems to have been the home of the Spanish naval dockyards for some years, with loads of ships being worked on and plenty of naval history all around the city.
Castello de San Felipe
Around 6k from the city is the Castello de San Felipe, a large fort protecting the harbour entrance, we thought it'd make a nice stroll so off we set. I wouldn't say the walk was easy, in fact there was a 1:10 hill that lasted for at least a mile, well it certainly felt like a mile.
Rounding a bend you get your first sight of the fort and quickly realise it's been worth the effort, it just has that look you expect from a Spanish fort.
5 more minutes and we were there. Entrance was free so happy days.
Once inside you really think it's something Hollywood might have built for a pirate film, you can just imagine Jack Sparrow, or Errol Flynn (if you're a bit older) running around, sword in hand doing battle: but this place is real. It was first built in 1598 and has been under development since and you can really see the different parts.
Just off a small dock on the North side of the fort are three huge anchors, apparently chains were once attached that stretched across the bay to stop ships passing.
After a good bit of exploring we decided to walk a bit further along the coast to see the fort from the other angle: well one 'just around that bend' and a 'let's see what over that hill' and we'd done about 10k, it seemed pointless retracing our steps so carried on to the circular route, just under 20k.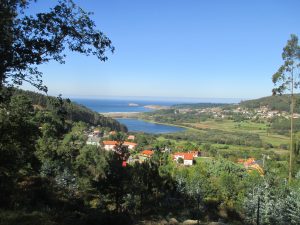 We were rewarded with some great scenery, some very challenging hills all topped off with a nice cold one after about 15k.
All in all a cracking day followed up by a cracking night exploring Ferrol city, but not sure Dom was so convinced by the way they do Kebabs though!