So the journey begins:
We set off from Wales on Friday evening leaving behind the nice welsh, rainy weather. An 8 hour drive saw us parked up in Portsmouth waiting for the ferry, which is scheduled to leave at 8:45, so not long! After a few hours kip and an easy boarding we were off: Spain here we come.
The ferry crossing was calm, and I mean really calm, you've hear the saying 'Like a mill pond' well it really was, couldn't have wished for a better start to our trip.
Santander came into sight around 2pm local time Sunday, and what a great looking city with old and new buildings lining the waters edge, people swimming, sailing and generally enjoying themselves on the beach, we must come and visit.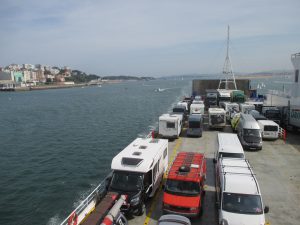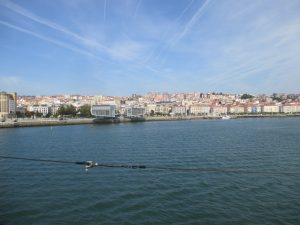 Today though we're scheduled to visit Ribadesella, a small fishing town about 100 miles West of Santander popular with surfers, as is all this area of coast, we've got 3 nights booked into a camp site to get acclimatised and some provisions.
Dom's shopping list: 6 pot Noodles, Bread, Ketchup, a box of Twinkies and a case of beer: personally I think he's got the quantities for beer and pot noodle the wrong way round, but hey, each to his own.
The first thing I noticed was the good Spanish roads, I'm not sure what I expected, but the roads so far have been great.
The campsite: Camping Playa Sauces has clean showers with hot water and it's a 5 minute walk from the beach and town there's also an onsite bar which does food so happy days.
The Beach: Long and sweeping with some nice waves and plenty of people surfing, although a bit calm in this picture.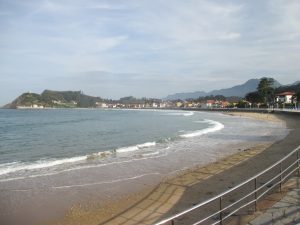 Tomorrow we're heading a bit further west to find some more beaches while the weather's still good, mind you it was a bit cool yesterday, I'm sure it dropped below 23! For those of you who don't know Wales that's still hot to us from Wales!