Following 2 consecutive hottest days of the year, (in the UK that's around 34C), today's forecast was for some cooler temperatures and promised to be cloudy, so it seemed an ideal day to do a longer section of the coast path, the route South from Aberystwyth to Aberaeron. The coastal path is a great way to do some exploring, it was created some years ago and runs around the entire coast of Wales, with easy to find information on each section.
At around 15 miles and classified as moderate to difficult this section wasn't going to be easy. 'So why do it?' I hear you ask, well the sense of peace and tranquillity you get while experiencing some of the most spectacular scenery anywhere is well worth a little effort.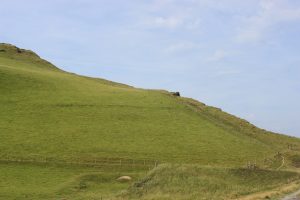 As always the path starts with a hill, this one quite severe, but just take your time and it's soon over with, and while you're resting you can take in the views. For the first 10 miles there's little that's unusual about the route, spectacular cliffs inhabited by a myriad of seabirds, open farmland and cooling forested areas become the norm, but as you reach the crest of the latest hill or round the bend of yet another bay the scenery changes, but always outstanding. At around the 10 mile mark you arrive at llanrhystud where you can call it a day if you want, with the path going up to the main road where you can catch a bus back to Aberystwyth.
I decided to carry on to Aberaeron, another 6-7 miles.
Continuing on brings you to Doluarth with its church and collection of houses, when I was nearing the village the path was a little confusing, there were ropes stretched across the path blocking my way, but with help from another couple, who were walking the same path, we decided to just head straight for the church, ignoring the ropes, this turned out to be the right path.
The path is fairly flat for quite a distance, running right along the beach, with some bits actually being on the beach, and you'll see ahead of you the next hill, looming like a goliath in the distance, but don't worry, it's not as bad as it looks! Luckily this is the last major hill, and once at the top it's either flat or downhill all the way to Aberaeron.
My plan of doing this section on a cooler day was flawed on so many levels, it turned out to be the latest hottest day of the year (34C+) and not as cloudy as predicted with little or no cooling breeze. So when I arrived in Aberaeron and the first thing I saw was an ice cream shop I thought I was in heaven, and after eating a generous portion of their vanilla I was convinced that that was where I was.
Aberaeron
Aberaeron is a quaint seaside town with a small tidal harbour, a mostly stony beach and is known for its brightly coloured houses. The whole town has an artisan feel about it, even in the local 'supermarket' you'll find homemade cakes, breads and preserves. There are numerous shops selling locally produced goods, handmade this and that and a range of locally produced foodstuffs.
The town has a very laid-back feel, and on a sunny day nothing is better than just wandering around, ice cream in hand, soaking up the atmosphere, but on inclement days sitting in a pub or cafe chatting with locals and visitors alike is equally as relaxing.
I was lucky enough to walk up to the bus stop just as the Aberystwyth bus arrived, so I was soon sitting in the old railway station pub back in Aberystwyth having a well deserved cool beer.
To get back to Borth it's a short bus or train ride, both services are regular so there was no rush to finish the beer …. Well except to get another!